Black Mirror: Volume 1 subtitled as A Literary Season is the first book in the Black Mirror anthology series. It was set to be published on February 20th 2018, before delaying its release date. Three authors have been confirmed so far: They are Cory Doctorrow, Claire North and Sylvain Neuvel.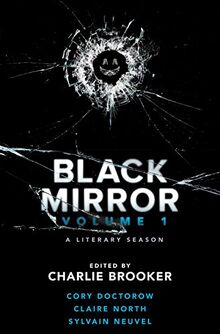 From the creator of Black Mirror comes the first book in an anthology series featuring original stories from leading fiction writers, all set in the world of the cult series.
Edited by Charlie Brooker, the creator of the hit Netflix original series Black Mirror, this book takes the very essence of the globally acclaimed cult TV show to create new, original, darkly satirical stories that tap into our collective unease about the modern world. This is Black Mirror in book form, allowed to roam through the imaginations of some of the leading names in contemporary fiction. This collection will challenge you to see the world in a different—and more disturbing—light.
You have been warned. . . .
References
Edit