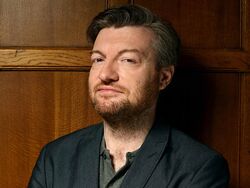 Charlton "Charlie" Brooker (born 3 March 1971) is an English satirist and broadcaster. He is the creator of the acclaimed anthology series Black Mirror.
Black Mirror Edit
In December 2011, three episodes of Brooker's Black Mirror, a science fiction anthology series, aired on Channel 4 to largely positive reviews. As well as creating the show, Brooker wrote the first episode and co-wrote the second with his wife Konnie Huq. He also wrote all three episodes of series two. In September 2015, Netflix commissioned a third season of 12 episodes, with Channel 4 losing the rights to the programme. A trailer for the third season was released in October 2016. This was later split into two series of six episodes. The third season was released on Netflix worldwide on 21 October 2016. Brooker has solely written four of the episodes in series three, and has co-written the remaining two.
The series is produced by Zeppotron for Endemol. Regarding the programme's content and structure, Brooker noted, "each episode has a different cast, a different setting, even a different reality. But they're all about the way we live now – and the way we might be living in 10 minutes' time if we're clumsy."
An Endemol press release describes the series as "a hybrid of The Twilight Zone and Tales of the Unexpected which taps into our contemporary unease about our modern world", with the stories having a "techno-paranoia" feel. Channel 4 describes the first episode as "a twisted parable for the Twitter age".
Brooker explained the series' title to The Guardian, noting: "If technology is a drug – and it does feel like a drug – then what, precisely, are the side-effects? This area – between delight and discomfort – is where Black Mirror, my new drama series, is set. The "black mirror" of the title is the one you'll find on every wall, on every desk, in the palm of every hand: the cold, shiny screen of a TV, a monitor, a smartphone."
Several news reports, including one by Chris Cillizza, political reporter for The Washington Post, compared the 2016 Donald Trump political campaign to The Waldo Moment, a 2013 episode of the Black Mirror TV series; later, in September 2016, episode writer Charlie Brooker also compared the Trump campaign to the episode and predicted Trump would win the 2016 election.
External links
Edit